Jemez Mountains Electric Cooperative, Inc. appreciates the efforts of our employees to serve the cooperative members and to fulfill our mission as we strive to be the best in price, service and reliability. Outstanding employees deserve to be recognized both as a reward for exceptional performance and as a model for all in the organization.
So, we are delighted to celebrate employees selected for JMEC's Employee Spotlight – for their outstanding service done with a positive and supportive spirit! In recognition, we are pleased to present them with an Employee Spotlight certificate as well as with a $100 gift card presented by our CEO/General Manager or by one of our departmental supervisors.
Join us in celebrating these outstanding employees!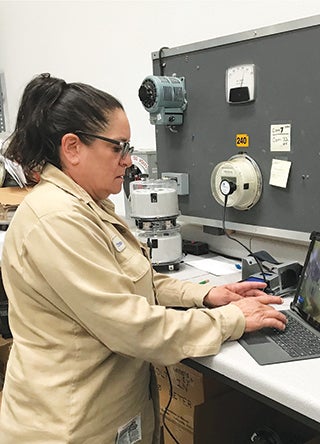 September 2023 - Christine Chavez
Prior to joining Jemez Mountains Electric Cooperative, Inc., in 2013, Christine Chavez was a firefighter for 17 years, eventually becoming a crew boss and later, an engine boss. Then funding for her position was cut and Chavez went to JMEC for what was supposed to be a six-month stint as a tree trimmer. Ten years later, she's running the cooperative's meter shop.
Whether she is in the shop preparing the meters or out in the field testing members' meters, Chavez said that she has terrific co-workers always available to offer their advice when she needs it.
"If I come upon complications, Randy Vigil (operations supervisor), Darryl Leyba, (journeyman lineman) and Leonard Bustos (journeyman lineman) always are there for me," said Chavez. "When I need help, these are the men I call upon. They direct me in the right way. We work together to make sure everything is correct and safe."
Not surprisingly, Chavez said the thing she liked most about her job was the camaraderie. "My co-workers are just the best people in the world to work with. They understand what I deal with out in the field."
Comments in her nomination to be the Employee in the Spotlight included, "Christine is always more than willing to go out and test meters for members and walk them through the process." "She is hard working, dependable and efficient." "Christine is always agreeable and is a wonderful co-worker."
Chavez wants members to know that all the cooperative staff is there for them. "It takes a village to do what we do for members," she said. "Everyone on the team from management to apprentices are doing everything in their might to serve them." She added, for good measure, that she takes pride in making sure that their meters are 100 percent taken care of and that they report accurately.
A resident of Alcalde, Chavez says that when she is not working she enjoys her family, her five dogs – one Blue Heeler (Opie) and four Chihuahua terriers (Littles, Buzzard, Guy Guy and Choo Choo Train) and what her nephew, Dominic, calls her "giant truck" – a Dodge Ram.
---
Previous Employees of the Month

August 2023 - Michelle Vigil
Potential. Michelle Vigil had it in abundance. You see, she had been happy in her previous position, serving as a branch manager for a loan and tax company for more than 15 years. Then that company decided to close all its offices in the state.
"I had to find something else and I thought I would consider accounting," Vigil said. "I didn't have any experience in accounting, but the interview went very well. Geraldine (Romero, JMEC accounting manager) told me if I was willing to learn, she was willing to teach me."
She was willing! Vigil admits it was a little intimidating when she started. It helped that she had years of experience managing an office that did loan approvals and tax preparation – work that requires attention to detail. Also, she took well to the training and now, while still in the learning process, she helps the team –Erlinda Baca, Sandra Herrera, Deborah Madrid, Cherry Morfin and supervisor Geraldine Romero – with whatever they need while taking daily responsibility for journal entries and making sure the cashier balances.
Comments in her nomination for this recognition included, "Michelle is always willing to help out." "Michelle shows interest in wanting to learn as much as possible and is a team player with a positive attitude." Of the many special projects with which she has been tasked, "She never complains and goes above and beyond to get the projects done."
Those projects fit well with one of the things she likes most about working for JMEC. "I am learning something new every day," she said. "When something new is first shown to me I think, oh how I am going to do this. But then I do it and see it was not so bad!"
Vigil said she is amazed at all that is done at the cooperative to bring power to members. "There is so much more that goes into bringing power to members than you would ever guess," she said. "I have barely begun to appreciate it all and I have been working here a year this month."
Vigil is from Chimayo and lives in Española with her husband Lawrence, and their sons Nicholas 22, Eric 20, and Kevin 18. She says when she is not working, she likes to take long drives admiring all the beautiful scenery, going to the movie theater and doing yard work. And, on the rare occasions when they all can be in the same place at one time, she enjoys getting together with her family – not easy when all are busy heading in different directions!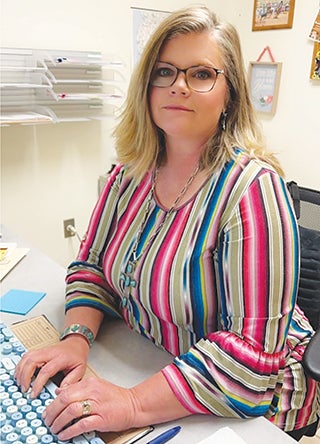 July 2023 - Bobbie Jo Chavez
Prior to joining Jemez Mountains Electric Cooperative, Inc., in 2016, Bobbie Jo Chavez had not had an office job, had not worked on a computer and did not know how to use email. "I had been a bank teller, worked in retail and restaurants but I didn't have a lot of office skills so I was a little afraid to take the position," she said. "But I was encouraged to go for it. They said I will learn and be a good fit."
That must have been the understatement of the year. Starting in a temp position in Cuba, as a general office assistant, Chavez moved into the assistant district office clerk position after a year, was promoted to district office clerk, then she pursued the work order clerk position when it opened and now is senior work order clerk. She did learn and she is an excellent fit!
Now she is leading the charge on work that has become her passion – work orders and all the complexity that comes with them.
"I love taking on these work order projects and seeing them through to the end," said Chavez. "I like the accuracy required in all the things we track and report. I like being transparent to members in all that we do with and for them, and making it known to our cooperative leadership that we are making progress – closing both old and new work orders."
Katelyn Duran works with Chavez in the Cuba office and Jeanelle Anaya works out of the Española office. "We've worked hard to come together as a team," said Chavez, "and because of that, and because of the amazing support leadership gives this department, we have been able to problem solve the challenges unique to each district and explore more efficient ways of doing the work."
Chavez said she really dove in to learn every aspect of this process. "Every district kicks out tons of new work orders and we get to solve logic problems with each." That solution-oriented approach includes planning to streamline a process that resists streamlining – managing work orders – so the team sets the cooperative up for success with a system that keeps projects on track.
"Since I joined JMEC I've realized I have capabilities I never knew I had," she said. "When I first started, my boss at the time would give me a responsibility and I couldn't believe that he believed I could do. And then I would do it. I have realized I can set goals for myself and achieve them."
While JMEC and its members have been the beneficiary of the hard work Chavez puts into herself and her job, she is able to leave work at work when she goes home. She and her husband have three kids, a son, 32, is married with a family of his own, a daughter, 22, has returned to college to become a teacher and a son, 18, is getting ready to graduate and go to college. Looks like she achieved important goals at home, too.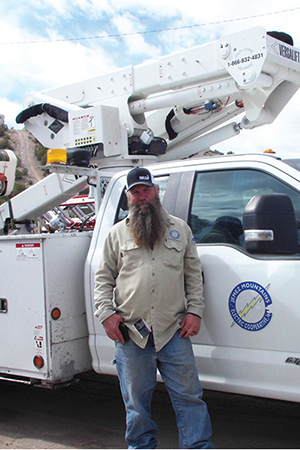 May 2023 - Chad Stacy
Chad Stacy's story as a journeyman lineman for Jemez Mountains Electric Cooperative, Inc., began on a school bus more than 30 years ago. The driver was Melecio Jaramillo who after 42 years of service to JMEC as a journeyman lineman, spent another 25 years as a school bus driver – wow! Jaramillo, who passed in 2017, told Stacy riveting stories about his years building line in the Jemez mountains and Stacy was hooked.
"Mel was one of the original JMEC employees and what he shared about his work with the co-op really attracted me," Stacy said. "I talked to my dad, then to Jackie Martinez, a journeyman lineman who lived in our area. Jackie connected me to the union hall and it went from there." Stacy, a native of Jemez Springs, launched his career in 1994 with the Southwest Line Constructors Joint Apprenticeship and Training Program then worked with Sturgeon Electric as an apprentice and a journeyman lineman.
Years later, he was leaving a position at the Los Alamos Labs with plans to work in California when JMEC approached him. He started with the co-op in 2000 as a journeyman lineman and then became a foreman in 2003. Stacy now serves on the apprentice committee, one of three journeymen linemen appointed by the union who, along with management representatives, judge the confidence and competency of apprentices as they take their field tests.
"It is rewarding to teach these young apprentices the trade," Stacy said. "We have 11 apprentices and they are under our close supervision every day. I really enjoy the camaraderie of working with them and all the men on the crew."
A lot has changed since he entered the profession. "When I started, for example, there was not the fire retardant clothing that we have now," he said. "The biggest change is what we have now for fall restraint. I grew up free climbing and this device (a wood pole fall restriction secondary lanyard designed to grip the pole if the user starts to fall) makes it so that you cannot fall."
You would think Stacy would mention the bucket truck or another mechanical improvement as the advancement having the biggest impact on his work, however, "We get to do a lot of old school line work," he added. "We would use bucket trucks if we could get them to the site but when we're working in the mountains that often is not an option. So, we climb."
Safety considerations inform everything he does. "For ourselves, our crew, our members, safety is the priority," he said. "Our goal every day is to get everyone home safely. Every day, our work is to keep the power on for our members, safely. That is what we hope members remember when we are working an outage in storms or hard-to-reach areas – we are a small crew and we are really giving it our all to get their lights on and keep them on."
When he is not working, Stacy has three big distractions that get all his attention. "My three grandchildren are turning into my world," he said. "Aspen turning 5, Dani will be 4 and Brody soon to be 2 – we do a lot of outdoor activities. This is about all I like to do lately – get them all wound up and see them go!"

March 2023 - Juan Duran
It's a safe bet that JMEC senior journeyman lineman Juan Duran never pictured himself in a jolly red suit, saying, "Ho, ho, ho!" to dozens of little kids as they crawled on his lap or beside him and whispered their fondest wishes for a Merry Christmas. But that is where you would have found him last December, in the JMEC headquarters lobby, not exactly filling out the suit but admirably filling out the role as a jolly St. Nick to a bunch of visiting families.
"It was an honor to do that for the co-op," Duran said. "It was nerve wracking at first. I'm a people person but I'm not usually talking to 40-50 different people in a matter of a couple of hours. I really enjoyed it, though. I can see doing that again."
Duran has been doing whatever was needed to serve JMEC and its members for years. He joined JMEC in 2005 on the tree trimming crew and jumped on the opportunity to go through the co-op's four-year apprenticeship to become a journeyman lineman. He now runs crews who do construction adding new line and services and said while much has changed since he started, the focus on safety is always the priority.
"When there is an outage, I appreciate that members are hopeful for the power to come back on quickly but it takes a good while to do the job safely – testing, grounding, checking all is done correctly," said Duran.
In the recommendation of Duran for the Spotlight, a comment included, "He is always willing to teach and is a very hard worker. Safety is number one and he makes it a priority to remind us of it. He has shown many of us how to perform our work with pride!"
Duran, who lives in Española and has a daughter, 20, and son, 17, said he loves the job – being in the outdoors, meeting the variety of challenges and working alongside "all the good people at the co-op" including the "youngsters" on his crews. When not on the job or on call, he enjoys being in the mountains – camping, riding the side-by-sides or his Harley.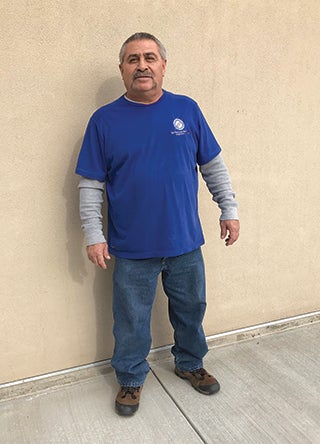 February 2023 - George Valdez
When asked how long he has been with Jemez Mountains Electric Cooperative, Inc., George Valdez said, "Six years already," like he could not believe how quickly the time has flown by! That could be because George, now in the maintenance department, has taken on multiple roles in these last few years.
"I live nearby so I applied and started as a tree trimmer," he said. After just six months, Valdez transitioned from that rugged outdoor work to serving as a meter reader which took him all over the JMEC service territory. "Sometimes I would read up to 400 meters in a day, in all kinds of weather," he said. When reading meters for large power users he had some of his more memorable adventures, like hitching a ride with Santa Fe Ski personnel on a snowmobile to reach its ski basin meters or getting to the top of mesas when reading for cell towers.
Valdez worked in the warehouse after that, prepping materials so that the linemen had what they needed as they went out for their workday. Coming to the maintenance department about a year ago, he takes care of the buildings and its people. In nominating him for this Employee Spotlight, it was said that, "George possesses the cooperative spirit in every task he has at JMEC, from respectfully folding the flags every evening to coming in early on days we have snow and ice to make sure it is safe for all of us. He always has a smile and a friendly word for employees and members when they come to the office."
Valdez lives in Chili and says when he is not working, he enjoys doing mechanic work and painting cars, riding his Harley and playing with his dogs Marley, Harley and Bonita.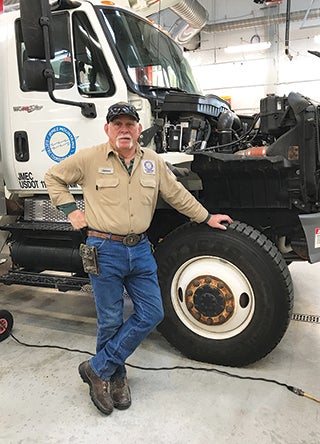 December 2022 -  James Fredericks
James Fredericks, JMEC's journeyman mechanic, has worked all over the world – South America, Africa, Europe, Asia – but there is no place else he would want to live than right here in Española.
From southern Colorado, Fredricks' family owned a ranch in northern New Mexico and he has lived in the area for 35 years. He left home for the Air Force at 18, which took him to Germany and Italy. He got his experience as a mechanic over 15 years working internationally in the oil fields. He finished his career in that sector as a senior drilling supervisor for hazard mitigation. He's also had his own small business, worked as a logger, a heavy equipment operator and more. He likes to stay busy and he likes to be outside.
Not surprisingly, "James has proven to be an exceptional worker," said Eli Gallegos, purchasing. Now Fredricks spends 95 percent of his work time in Española, though he will travel to Jemez Springs, even Cuba, to help out as needed. "My goal is to make sure we have the equipment and property in good working order to keep the electricity on for all our people out there," Fredricks said.
He likes the independence of the work, coming in early, getting the paperwork done and then having the vehicles ready to get the guys out and on to their assignments for the day. When not working, Fredricks enjoys camping, hunting and fishing. Married for 41 years to his wife, Sheila, she served as a counselor for the school of the deaf and as a special ed teacher in Española Middle School for 25 years. They have three daughters. All are college graduates into careers in nursing, education and one as an engineer for BNSF.
Possibly the most fun he has is with their three grandkids. "It's really fantastic," he said, "You can spoil them rotten and then send them home."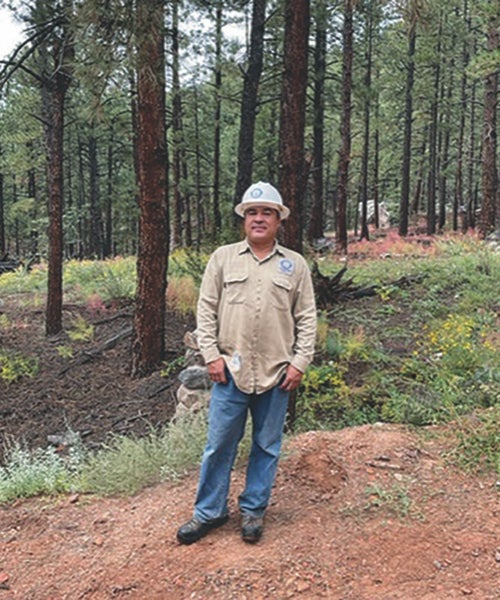 November 2022 -  Frankie Acevedo
After more than 20 years in the business and closing in on three years with JMEC, Francisco (Frankie) Acevedo, certified line clearance arborist, still loves what he does – vegetation management. That is a fancy term for being out in nature, in all weather and terrain conditions, trimming trees away from power lines. This year-round work helps prevent interruptions to the power that serves our members.
"I have a very cool crew that works with me – Enrico Trujillo, Daniel Guttierez and journeyman Mauricio Brecedra," Acevedo said. "I appreciate them a lot and couldn't do it without them."
He came to New Mexico in 2000 from California as part of a job transfer working as a subcontractor for an investor-owned utility. He is grateful for the JMEC difference. "The other organization didn't take care of their employees like Jemez does; didn't hang on to the employees who know what they are doing or appreciate them," he said.
While tree trimming takes most of his time, the crew also has to maintain their equipment and focus every day on keeping each other and the public safe. It can be dangerous; the crew is working with chain saws after all, near power lines and sometimes in stormy weather.
Acevedo, who lives in Albuquerque and has a wife and three kids, enjoys his work. "I am out in nature every day, getting paid to do a job I love."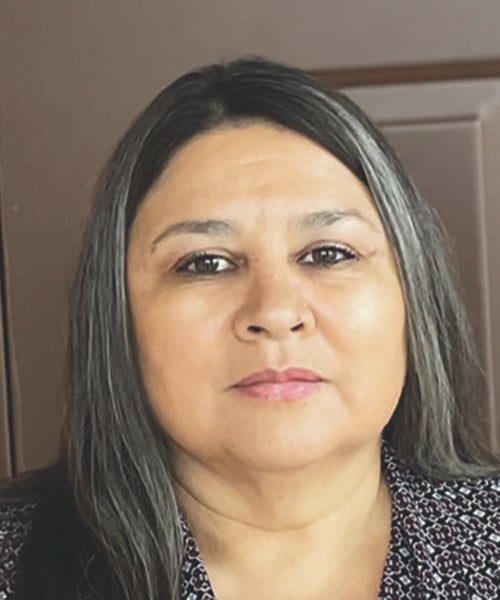 August 2022 -  Ruby Chacon
As member service collector, Ruby Chacon is a diplomat. Knowledgeable and empathetic, patient with a great attention to detail, she knows how to both help and hold accountable members who have fallen behind on their electric service bill.
Chacon, who works out of the Cuba office, recently took on additional duties associated with the Emergency Rental Assistance Program (ERAP) which, for eligible applicants, can pay past due bills for up to the 12 previous months and three months into the future on their account.
"Ruby is extremely well organized and is always willing to assist as needed," said Patricia Martinez, Cuba office manager. "She has taken on the ERAP application process, doing a fantastic job contacting and informing members not only about ERAP assistance but all assistant programs available. Her work has resulted in ERAP aid of nearly $50,000 to our members with past due accounts. She is an exceptional team member and offers excellent customer service to all."
Chacon, a native of Cuba, joined JMEC in 2014. She said the job is not easy but it is one she has grown into and says it can be very rewarding. "You have to have a friendly attitude and take the time to hear each member out to understand their situation," she said. "Every call is unique and it is really gratifying when you can help people."
When not working, Chacon says she spends as much time as possible with her family – her husband, Eddie, of 33 years; daughter, Nicole, who with her boyfriend, Felipe, have two "handsome little boys," Brody & Brayden. Her other daughter, Janice, and husband, Johnny, live in Colorado and they see each other as much as they can.
Thank you for all you do, Ruby!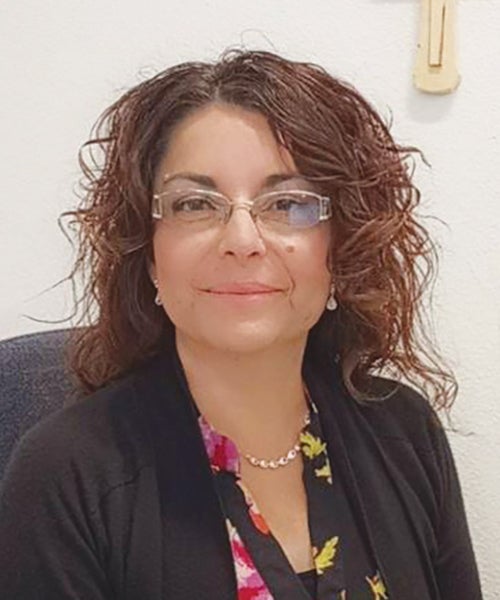 May 2022 -  Erlinda Baca
This is Erlinda Baca's 23rd year (wow!) with JMEC and she's spent 22 of them blazing through her fast-paced days in our Accounting Department. "The minute I walk in the door, the action is non-stop," she said.
Erlinda says she enjoys continually learning about the many different aspects of JMEC. She handles a wide variety of daily accounting functions as well as helps out with any other departmental needs. Erlinda is renowned, however, for making sure employee time sheets are timely and accurate as such is critical to making payroll.
"It is a lot of work, but our team has never failed to deliver payroll on time," she said. "Of course, it is critical to employees, yet we work just as hard to pay our vendors on a timely matter. I love the fact that I work here close to the valley with our local people. Our relationships are like family. It is an honor and pleasure to be employed by JMEC."
Reliable and professional, Erlinda's years of experience and expertise with accounting fundamentals unique to an electric cooperative are an advantage to the organization and the members we serve. Away from work, she supports her 13-year-old son, Santiago, as he pursues his education and every sport offered at Mesa Vista Schools in Ojo Caliente. "I like to support all our local schools and help out in any way I can," she added. She also enjoys spending time outdoors and quality time with family and friends.
Thank you for all you do, Erlinda!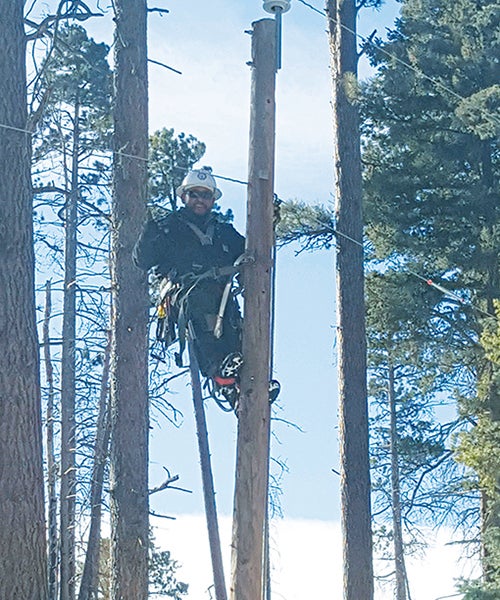 April 2022 -  Jason Gachupin
Jason Gachupin is a journeyman lineman in the Jemez Springs district on his second stint with JMEC. He started with us in 2003, went to help when Jicarilla Apache Nation Power Authority was getting underway and has been back with JMEC since 2018. He is always willing to complete the job at hand, with attention to safety, through any weather and environment.
"I grew up in this community and it feels good to provide this service to people," said Gachupin. "That is especially true when restoring power. While it is a sacrifice when I have to leave my family at any hour to take care of an outage but they understand and respect my job and our members make me feel like a hero."
He said he and his team pay particular attention to members who have special medical needs that are power dependent. "They are a priority for us," he added. "They and all our members are appreciative for what we do."
Gachupin said the lineman work keeps him on his toes, always having to adjust to the terrain, road conditions, new technology and whatever arises when he receives a problem call. "Every day is different," he said. "We train on equipment, change out structures, do repairs and upgrades. You have to have a strong back but it is never boring!"
A resident of Zia Pueblo, Gachupin has a seven-year-old son and four teenage daughters he keeps busy with farming, ranching, hauling wood as well as plenty of hunting, fishing and camping. "When the lights go out somewhere, my family knows what is next," he said. "We sometimes don't get home until the next day but they are always checking on us, making sure we are safe."
Thank you for all you do, Jason!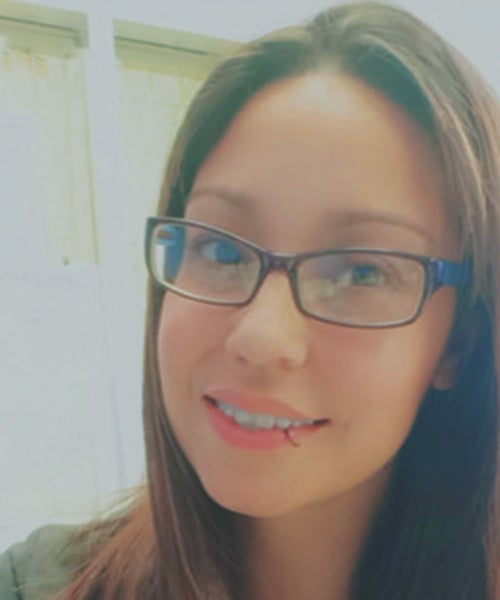 March 2022 - Jessica Espiricueta
Jessica Espiricueta has served as a billing clerk in the billing department for about two years and her supervisor, Clara Martinez, JMEC's member service supervisor, says, "She is just awesome. Jessica is very outgoing and is someone you can depend on to step up to the plate."
In addition to good math skills and working closely with the meter readers to verify readings – making sure members are correctly billed – Espiricueta says an ability to multi-task and a heart for customer service are essential to the work. "I get to speak with members every day who call in for information or with questions," she said. "Members are our priority. We value their opinion and want to make sure we address their concerns."
Martinez said Espiricueta has great attention for detail and is thorough. "If a member calls with a question, Jessica investigates until she gets the answer," Martinez added. Espiricueta said she is often surprised how many different things come up each day but that the team makes sure they finish the day's work so the next day starts with a clean slate.
Away from work, Espiricueta enjoys spending time with her boys, Miguel, 14, and Daniel, 8, her boyfriend and other friends, going to the mountains, hunting, fishing or camping.
Thanks for all you do for us, Jessica!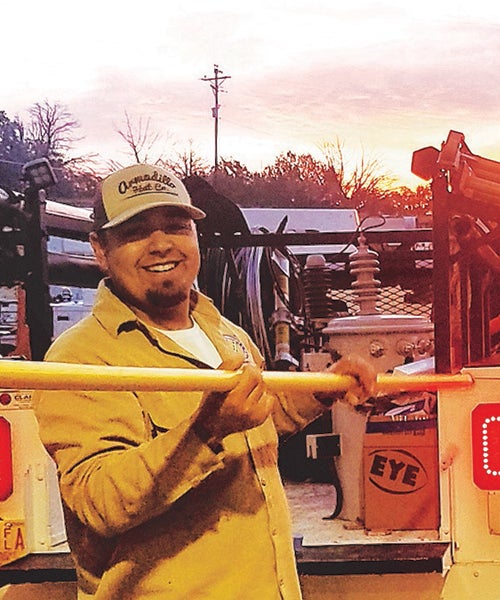 February 2022 - Jacob Anderson
When you work for the largest electric cooperative in the state of New Mexico that has more than 4,000 miles of transmission and distribution lines threaded throughout a 7,000-square-mile service, what is one of the things you learn quickly if you happen to be a second year journeyman lineman trainee like Jacob Anderson? "Long drives. Hours and hours every day!"
Anderson came to Jemez Mountains Electric Cooperative, Inc. in 2017 as a laborer. He started as an apprentice in 2019. "I was working with an electrician and also knew a journeyman who talked about being a lineman so, I applied when an opportunity came open," he said. "It's really rewarding. We go to a lot of different places and do a lot of different jobs. We are always going somewhere new." 
That was one thing that surprised him - where the powerlines go. Everywhere - throughout the mountains, canyons and washes. Anderson said it can be challenging to get to all the places where the work - outage restoration, line construction, prepping materials and equipment for the lineman and more - takes them but he enjoys it.
A resident of Cuba, Anderson lives there with his "very significant" other, Victoria, and their one-year-old daughter, Mya. When not driving the JMEC lines he likes to hunt, fish, watch movies and spend time with his family.
Thanks for all you do for us, Jacob!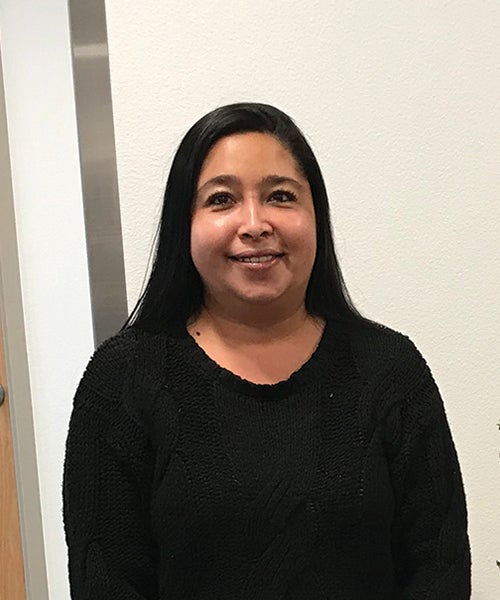 January 2022 - Angel Trujillo
Angel Trujillo, work order clerk in JMEC's Española engineering department, has her hands full closing work orders, coordinating with stakers, keeping her Excel spreadsheets in perfect order, talking with members, working with the warehouse on materials, completing monthly reports for accounting – you know, the usual million things. Even so, she still made time to bring creative ideas, run errands and help decorate alongside her coworkers the dazzling JMEC float that was part of the annual Christmas on the Plaza, Electric Light Parade Dec. 11. Like her regular job, it was hard work but fun.
"A friend of mine where I used to work told me about the Jemez co-op, saying it was really cool," Trujillo said. "I decided to give it a try!" Four years later, she is still going strong. She took on the role in engineering earlier this year after three and a half years working in the cashiering department. "As a work order clerk you need focus, good math skills and an attention to detail," Trujillo said. "I am still learning!"
When not multi-tasking at the office Trujillo lives in Truchas with daughters Miquela, 17, and Alicia, 14, and in her free time, she like to hunt for deer and elk, fish and go camping.
Thanks for all you do for us, Angel!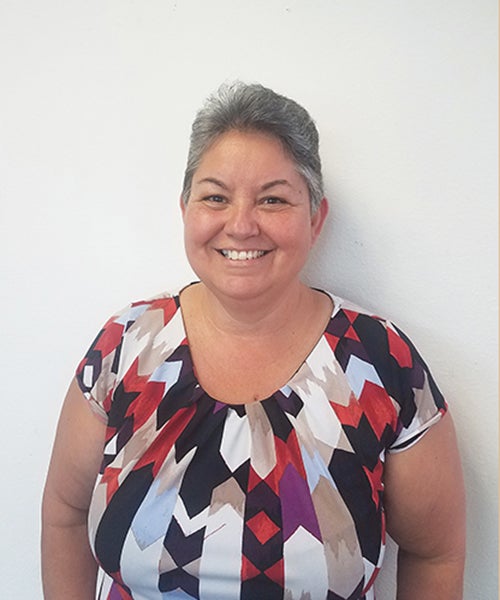 August 2021 - Patricia Vigil
As JMEC's general office assistant in the Espanola office, Patricia Vigil has broad responsibilities. "I help everyone who needs help!" she said. That includes assisting with billing questions, service applications, accounting, filing, cashiering, collections, capital credits, covering the front desk and lots and lots of phone work.
"I answer questions our members have," Patricia said. "If I don't know the answer, I go find someone who does. We have great members – they're the best part of my job!" Since joining JMEC, Patricia learned a lot goes on behind the scenes. "I didn't understand before the importance of all that is done here to provide safe, reliable electric service and more," she said. "JMEC employees do so many different things, it's incredible!"
Patricia joined JMEC in 2017 and loves that she lives just five minutes from work. Patricia and her husband Lawrence will celebrate 39 years of marriage in August. They enjoy spending time with their 5 grandkids, ages 2-12. Sometimes Patricia will squeeze in watching basketball and baseball or playing cards.
Thanks for helping everyone who needs help at JMEC, Patricia!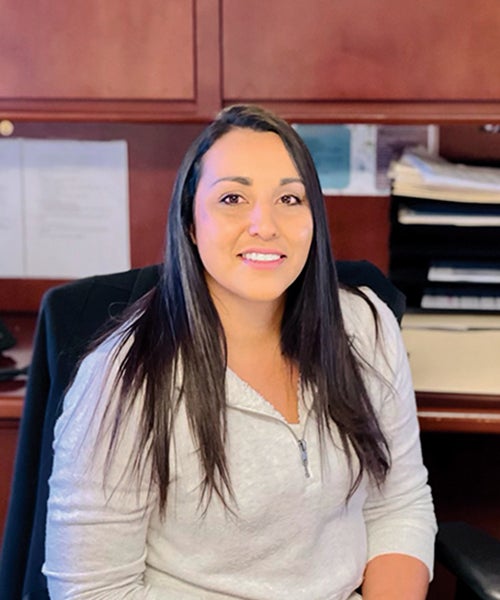 December 2021 - Patricia Martinez
Patricia Martinez has enjoyed a diverse and challenging career that has included working in the manager's office for Rio Arriba County, in Gallina schools and, for the last five years, at JMEC as clerk / cashier in the Cuba district office.
"I was looking for a challenge," she said. "This opportunity came up and I went for it!" Like many employees at the cooperative, Martinez wears a lot of hats – she is a backup cashier, answers phones, coordinates the many steps it takes to connect members to JMEC electric service and properly set up their accounts. "I love figuring it all out and making sure everything is correct," she added.
She has especially enjoyed supporting the work funded by the Cares Act which brought electricity to the homes of residents, some of whom had been waiting years, if not decades, for power. "We had limited time, and staff, but working together as a team we made it happen," Martinez said. "It was so gratifying!"
She lives in the Coyote area and loves spending time with her husband and two kids as well as hiking and fishing when the weather is fine. A perk of working at JMEC's Cuba office – it is near to where her dad live so gets to see him for lunch every day!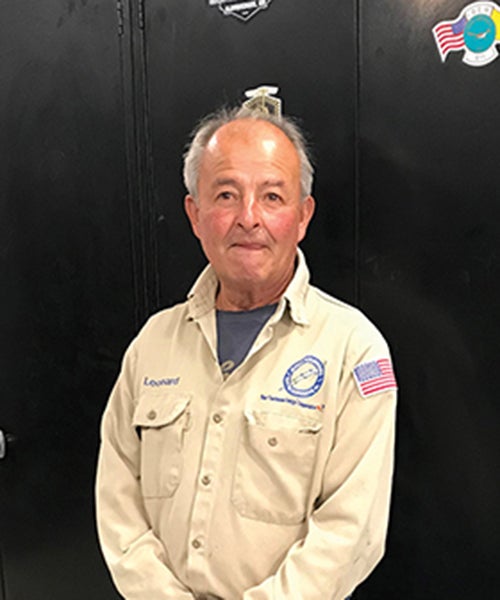 November 2021 - Leonard Bustos
Not everyone is cut out for Leonard Bustos' job. Work day and night. Often through storms – rain, wind, even snow at times. And by the way, the work is often on high-voltage, energized power lines. And he has done it for 20 years!
Bustos started in Jemez Mountains Electric Cooperative's four-year apprenticeship program and currently serves as Journeyman Lineman. He also is a member of the IBEW Local 611.
"Being a lineman, there will always be challenges to meet and decisions to make as we are often on the front lines of maintaining our members' safe, reliable electricity," Bustos said. He knows the needs of the department and is always ready to be called out to address power outages in a prompt, safe manner. We appreciate his good attitude and the pride he has taken in his work all these years.
Bustos has two beautiful daughters and, when away from the job, likes to tool around the New Mexico and Colorado mountains in his truck.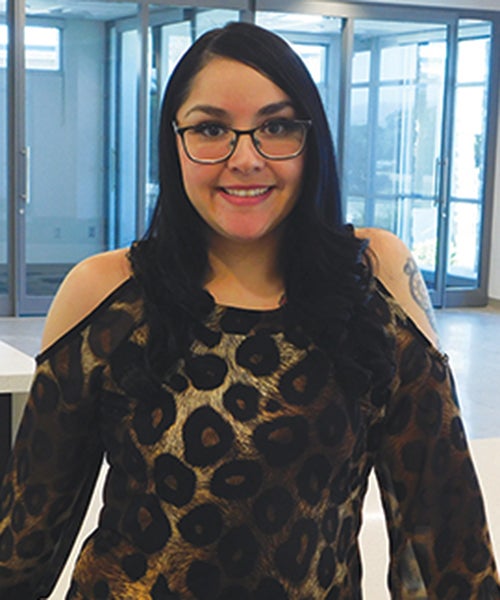 October 2021 - Candace Alire
"I so enjoy working with our customers," said Candace Alire, assistant cashier. "It is like they become part of my family. I get to see many nearly every month so I catch up on their families and what is going on in their life. I really look forward to seeing them."
As part of the JMEC customer service team, Candace often is the first person a cooperative member sees when they come in the Espanola office. She says she has learned a lot about the cooperative in the eight years since she joined JMEC and it's a good thing as she has to be ready to answer all kinds of questions!
"I really like problem solving with our members, making sure they feel heard and taking care of what they need," she added. "I try to help the best way I can." Candace works with multiple departments and does everything from take payments for things like utility bills, solar installations and new services to helping members with update forms and more.
Mom to an eight-year-old, Candace lives "far up" in the mountains. It's worth the drive. "I love my job and I enjoy being in the outdoors and spending time with family," she added.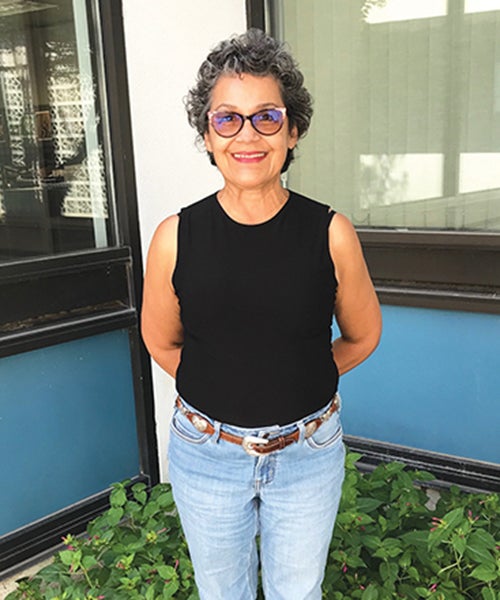 September 2021 - Christene Vigil
Christene Vigil's job title as engineering receptionist doesn't tell the half of it! Her job description is a page and a half long and represents her commitment to meet every challenge. "I never turn anyone down who comes to me for help unless I don't understand how to solve the problem, and then I find someone who can," she said.
Christene joined JMEC 23 years ago, on her birthday, after three years of submitting her resume. She left a 25-year career in banking and three years with an ophthalmologist to come to the cooperative. "I just heard it was a great place to work and it is," she added. "I love it. I am having fun. It is never boring!"
That is probably because on any given day Christene could be doing odometer readings, stock reports and balancing vendor statements for the cooperative's fleet or managing the multiple vendors and steps in setting up residential solar or handling trouble calls or dozens of other tasks. She still is adding to the three-ring binder "engineering bible" she put together during her first 30 days of training. "Its my own book of what to do and how to do it," she said.
Away from the job, Christene adds to her rock and flower gardens, quilts, bike rides and just enjoys the peace and quiet.
Thanks for always meeting the challenge, Christene!